The nearest international airport is located in Kraków (KRK) at a distance of about 110 km from Zakopane.
On the first day of the conference, Sunday, August 28, we will provide bus transportation from Kraków to Zakopane. The conference buses will leave from Plac Jana Matejki, downtown Kraków (near the main railway station) at 12:30 and 14:30, and from the Kraków Balice Airport, from the coach car park opposite the Cargo Terminal at 13:00 and 15:00. The buses will be marked with conference posters.
A return bus service from Zakopane to Kraków (via the airport) will be offered on Sunday, September 4, in the morning. The first bus will leave for the airport at 6:00, followed by later departures at 9:00 and 10:00. The travel time to the airport is about 2 hours. The travel time to downtown Kraków (Railway Station) is about 2 1/2 hours.
Use this link to register for the bus transfer from Kraków to Zakopane and back.
One may also reach Zakopane by public transport:
1. From the Airport take the train service to the main railway station in the center of Kraków. The trains depart every 30 minutes, running time is 20 minutes.
2. Walk 200 meters to the regional bus terminal (MDA). A regular bus service connects Kraków with Zakopane with busses of several companies departing every 20-30 minutes. The travel time from Kraków to Zakopane is approximately 2 hours. For detailed timetables check the "useful links" at the bottom of this page.
Several Taxi and Airport Transfer companies offer direct transportation from Kraków Airport to Zakopane. The cost varies between 300 and 400 PLN depending on the size of the car or van.
Accommodation and location of the hotel
The conference will take place in "Hotel Belvedere" conference center in Zakopane, ul. Droga do Białego 3.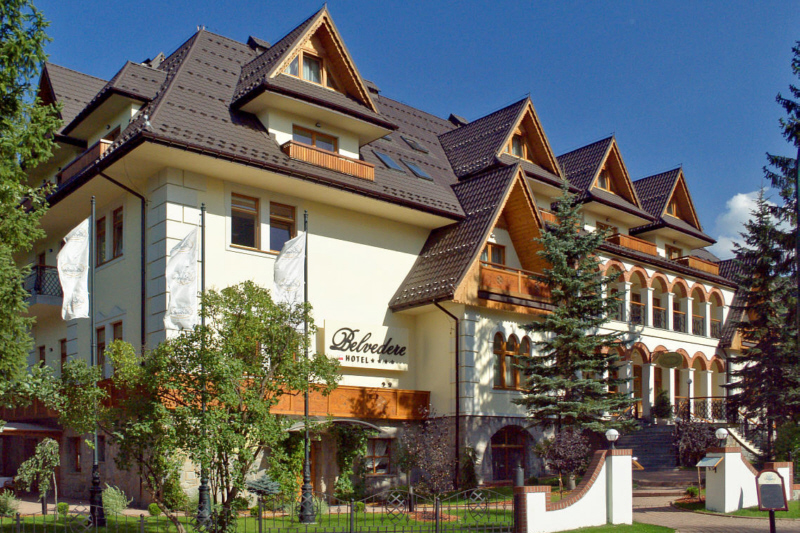 Please note that the site of the conference has changed from the previous (2014 and earlier) location.
Weather and web cameras from Zakopane
Late August and early September in Zakopane promises mild, sunny weather, inviting outdoor recreation.
Weather forecast for Zakopane for the next 8 days. Check current weather conditions and see the sights of the mountains provided by the Tatra Mountains rescue services (TOPR).
Staying in Kraków
For the participants who wish to stay in Kraków on the way to/from Zakopane we recommend the following hotels located in the Old City of Kraków at walking distance from the place of departure of the conference bus to Zakopane:
Hotel Pollera, Kraków, Szpitalna 30, rates from 300 PLN per night
Florianska University Guesthouse, Kraków, Florianska 49, rates from 270 PLN per night
Bed and Breakfast Guest Rooms, Kraków, Wislna 10, rates from 150 PLN per night
Please contact the hotels in Kraków to make individual reservations.
Useful links
Kraków Airport web site
How to get to/from Kraków Airport
Kraków Regional Bus Terminal
Kraków Airport Transfers (Taxi, Van and VIP car)
Kraków Airport Transfer (Taxi, Van)